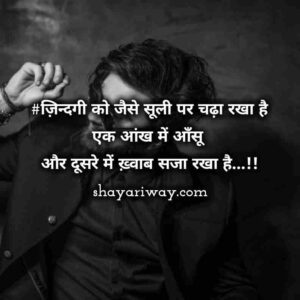 Attitude Shayari Status
ज़िन्दगी को जैसे सूली पर चढ़ा रखा है,
एक आंख में आँँसू और दूसरी में ख़्वाब सजा रखा है…!!
Zindagi Ko Jaise Suli Par Chada Rakha Hai,
Ik Aankh Me Aanshu Aur Dusri Me Khawab Sazaa Rakha Hai…!!
जब इश्क़ करता हूँ तो टूट कर करता हूँ मैं,
मुझे ये काम जरूरत के हिसाब से नहीं आता..!!
Jab Ishq Karta Hoon  To Toot Kar Karta Hoon Main,
Mujhe Yeh Kaam Jarurat Ke Hisab Se Nahi Aata..!!
जान भी ले लो हराकर, ऐसा मंजूर है मुझे,
धोका देने वालों को मैं दूसरा मौका तक नहीं देता..!!
Jaan Bhi Le Lo Harakar, Aisa Manzoor Hai Mujhe,
Dhokha Dene Walo Ko Main Dusra Mauka Tak Nahi Deta..!!
Attitude Shayari
मेरे मिजाज को समझना, बस इतना ही काफी है,
मैं हरगिज़ नहीं होता उसका, जो हर किसी का हो जाए..!!
Mere Mizaaz Ko Samajhna, Bas Itna Hi Kaafi Hai,
Main Hargiz Nhi Hota Uska, Jo Har Kisi Ka Ho Jaye..!!
जुबान पर लगाम लगाना कोई बडी बात नहीं,
बदल सको तो बदल के दिखाओं मेरे ख्यालातों को..!!
Juban Par Lagaam Lagana Koi Badi Baat Nahi,
Badal Sako To Badal Ke Dikhao Mere Khayalato Ko..!!
हंसी को सिर्फ एक नकाब बना रखा हैं मैनें,
जब घर से निकलता हूँ तो पहन लेता हूँ…!!
Hashi Ko Sirf Ek Nakaab Bana Rakha Hai Maine,
Jab Ghar Se Nikalta Hoo, To Pehan Leta Hoo…!!
Attitude Status
मैनें कभी बातें नही की उनसे,
पर बातेेंं उनकी हमेशा लाजवाब करता हूँ…!!
Maine Kabhi Baatein Nhi Ki Unse,
Par Baatein Unki Hamesha Lazwaab Karta Hoo…!!
सब आते है, हालचाल पूछने मेरा,
मगर एक बार तुम आ जाओ, तो ये नौबत ही न आये…!!
Sab Aate Hai, HaalChaal Puchne Mera,
Magar Ek Baar Tum Aa Jao, To Ye Nobat Hi Na Aaye…!!
बढ़ती जा रही है, शहर में शायरोंं की तादात,
वाह रे इश्क़, तूने किसी को भी  ना बख्शा ..!!
Badti Jaa Rahi Hai, Sahar Mein Sayaro Ki Tadaad,
Wah Re Ishq, Tune Kisi Ko Bhi Na Baksha..!!
Related Posts