Dard Bhari Shayari In Hindi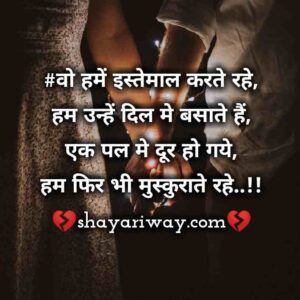 #वो हमें इस्तेमाल करते रहे, हम उन्हें दिल मे बसाते हैं,
एक पल मे दूर हो गये, हम फिर भी मुस्कुराते रहे..!!
#Vo Hume Istemaal Karte Rahe, Hum Unhe Dil Me Basate Rahe,
Ek Pal Me Door Ho Gaye, Hum Fir Bhi Muskurate Rahe..!!
#पांव मे जख्म थे मैं चल ना पाया,
दर्द तो दर्द था मुस्कुरा ना पाया,
तुम तो कहकर चले गए भूल जाना मुझे, मगर
मेरा दिल तो दिल था तुझे भूला ना पाया…!!!
#Pav Me Zakm The Main Chal Naa Paya,
Dard To Dard Tha Mushkura Naa Paya,
Tum To Keh Kar Chale Gye Bhool Jana Mujhe,
Mere Dil To Dil Tha Tujhe Bhoola Naa Paya…!!!
#तेरे इश्क़ मे सब कुछ भूला दिया,
रातों की चादनीं दिन का उजाला भूला दिया,
देर हो गयीं हमें आते आते,
तूने मेरी मोहब्बत को भूला दिया…!!!
#Tere Ishq Me Sab Kuch Bhula Diya,
Raaton Ki Chandni Din Ka Ujala Bhula Diya,
Der Ho Gayi Hume Aate Aate,
Tune Meri Mohobbat Ko Bhula Diya…!!!
#अपने दर्द मे उसे बसा लेती हूँ,
ख्यालों मे उसे पास बुला लेती हूँ,
ये जो जिन्दगी मर चूकी हैं मेरी,
उसकी याद आने पर जीने की दुआं देती हूँ…!!!
#Apne Dard Me Use Basa Leti Hu,
Khayalo Me Use Paas Bula Leti Hu,
Ye Jo Zindagi Mar Chuki Hai Meri,
Uski Yaad Aane Par Jeene Ki Dua Deti Hu…!!!
Sad Shayri For Girl
#मरहम लगा कर जख्म कुरेद जाते हो,
क्या ये तेरा रहम सच्चा हैं,
नहीं चाहिए मुझे तेरा रहम,
तेरे मरहम से मेरा दर्द अच्छा है…!!!
#Marham Laga Kar Zakhm Kured Jate Ho,
Kya Ye Tera Rehem Saccha Hai,
Nhi Chahiye Mujhe Tera Rehem,
Tere Marham Se Mera Dard Accha Hai…!!!
#जुबां से कुछ ना बोला, आखों ने सब जता दिया,
धोका दिया है उसने, चहरें ने सब जता दिया…!!!
#Juba Se Kuch Na Bola, Aankho Ne Sab Bata Diya,
Dhokha Diya Hai Usne, Chehre Ne Sab Jata Diya..!!
#सबसे छूपा के दर्द वो जो मुस्कुरा दिया,
उसकी हसी ने तो आज मुझको रूला दिया,
लहजें से उठ रही थीं हर दर्द की दास्तान,
चहरें ने जता दिया कि सब कुछ गवां दिया…!!!
#Sabse Chhupa Ke Dard Wo Jo Muskura Diya,
Uski Hansi Ne To Aaj Mujhko Rula Diya,
Lehze Se Uth Rahi Thi Har Dard Ki Dastan,
Chehra Ne Jata Diya Ki Sab Kuch Gawa Diya…!!!
#हर वक्त मिलती रहती हैं सजा मुझे
ना जाने क्या हुई खता मुझसे,
मैं कैसे कहूं कि ये दर्द उसका हैं,
जब कभी हुआं ना वो खफां मुझसे…!!!
#Har Waqt Milti Rehti Hai Saza Mujhe,
Na Jane Kya Hui Khata Mujhse,
Main Kaise Kahu Ki Ye Dard Uska Hai,
Jab Kabhi Hua Naa Wo Khafa Mujhse..!!