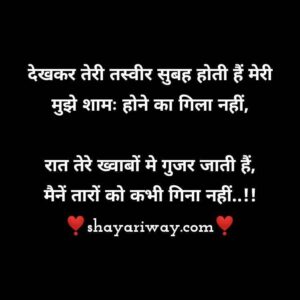 Dard Bhari Ghazal
दर्द मिला तो क्या मिला इश्क़ का
हमें इससे ज्यादा कुछ गिला नहीं,
तुम रहो आबाद ऐ जिन्दगी
हमें तुमसे अलग कोई मिला नहीं,
आ जाओ अब तो अपने आशियाने मे
तुम्हारे बाद इसमें कोई रहा नहीं,
देखकर तेरी तस्वीर सुबह होती हैं मेरी
मुझे शामः होने का गिला नहीं,
रात तेरे ख्वाबों मे गुजर जाती हैं,
मैनें तारों को कभी गिना नहीं..!!
Gam Bhari Ghazal
Dard Mila To Kya Mila Ishq Ka
Hime Isse Jyada Kuch Gila Nhi,
Tum Raho Aabad-e-Zindagi
Hume Tumse Alag Koi Mila Nhi,
Aa Jao Ab To Apne Aasiyane Me
Tumhare Baad Isme Koi Raha Nhi,
Dekhkar Teri Tasveer Subah Hoti Ha Meri
Mujhe Saam Hobe Ka Koi Gila Nhi,
Raat Tere Khawabo Me Guzar Jati Hai
Maine Taaro Ko Kabhi Gina Nhi..!!