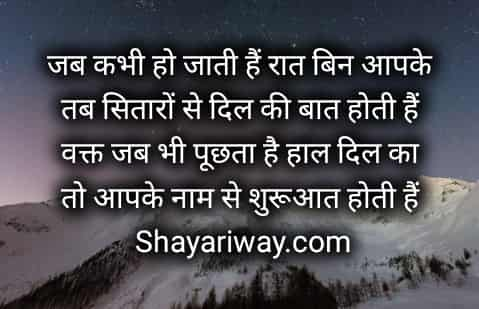 जब कभी हो जाती हैं रात बिन आपके
तब सितारों से दिल की बात होती हैं
वक्त जब भी पूछता है हाल दिल का
तो आपके नाम से शुरूआत होती हैं..!!
Jab Kabhi Ho Jati Hai Raat Bin Aapke
Tab Sitaro Se Dil Ki Baat Hoti Hai
Waqt Jab Bhi Puchta Hai Haal Dil Ka
To Aapke Naam Se Hi Suruaat Hoti Hai..!!
अपने आँचल से बाँध लूं इस दिल को
कहीं तेरे ख्यालों के साथ उड़ न जाये
थाम लूँ हाथ इसका कसकर कही
तेरी यादों में राह से मुड ना जाये..
Apne Aanchal Me Badh Lu Is Dil Ko
Kahi Tere Khayalo Ke Sath Udh Na Jaye
Thaam Lu Haath Iska Kaskar Kahi
Teri Yaado Me Raah Se Mud Na Jaye.
जितना मुश्किल किसी को चाहना होता हैं
उससे मुश्किल उसे बताना होता हैं
Jitna Mushkil Kisi Ko Chahna Hota Hai
Usse Mushkil Use Batana Hota Hai.
जब भी लिखता हूँ मैं दिल की बातों को अल्फाज में
तेरा ही चहरा दिखाई देता है हर अल्फाज में
Jab Bhi Likhta Hu Dil Ki Bato Ko Alfaz Me
Tera Hi Chahra Dikhayi Deta Hai Har Alfaz Me.
नजरें झुकाकर भी बेकरार करती हो
गले लगाकर कहो कितना प्यार करती हो
Nazre Jhukakar Bhi Bekrar Karti Ho
Gale Lagakar Kaho Kitna Pyar Karti Ho.
हमें मालूम है जन्नत की हकीकत मगर दिल
को खुश रखने के लिए तेरा ख्याल ही काफी है
Mujhe Malum Hai Zannat Ki Haqiqat Magar Dil
Ko Khush Rakne Ke Liye Tera Khayal Hi Kaafi Hai.
नींद से क्या शिकायत जो आती नहीं रात भर
कसूर तो उस चहरे का है जो सोने ही नहीं देता
Neend Se Kya Sikayat Jo Aati Nhi Raat Bhar
Kasoor To Us Chahre Ka Hai Jo Sone Hi Nhi Deta..!!
Related Shayari