Heart Touching Shayari In Hindi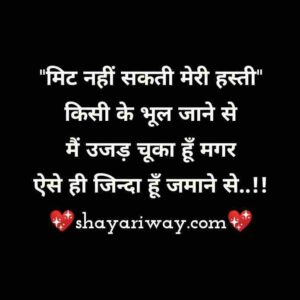 # मिट नहीं सकती मेरी हस्ती किसी के भूल जाने से
मैं उजड़ चूका हूँ मगर ऐसे ही जिन्दा हूँ जमाने से..!!
# Mit Nhi Sakti Meti Hasthi Kisi Ke Bhul Jaane Se,
Main Uzad Chuka Hu Magar Aise Hi Zinda Hu Jamane Se..!!
# अफसोस बहुत हुआ है उस पल का जब अपनी पसंद को किसी और ने चुरा लिया,
ख्वाब हम देखते है और हकीकत किसी और ने बना लिया..!!
# Afsos Bahut Hua Hai Us Pal Ka Jab Apni Pasand Ko Kisi Or Ne Chura Liya,
Khawab Hum Dekhte Rahe Aur Haqiqat Kisi Aur Ne Bana Liya..!!
# याद आएगी हर रोज मगर तुझे आवाज कभी ना दूंगा
लिखूंगा हर गजल तेरे लिए, मगर तेरा नाम कभी ना लूंगा..!!
# Yaad Aayegi Har Roz Magar Tujhe Aawaz Kabhi Na Dunga,
Likhunga Har Ghazal Tere Liye, Magar Tete Naam Kabhi Na Lunga..!!
# इश्क की नासमझी मे हम सबकुछ गवां बैठे
उन्हें खिलोने की जरूरत थी और हम दिल थमा बैठे…!!
# Ishq Ki NaSamjhi Me Hum Sabkuch Gava Baithe,
Unhe khilone Ki Jarurat The Aur Hum Dil Thama Baite..!!
# हमको डुबाने की कोशिश भी उन्होंने ही की थी,
जिनको तैरना भी हमनें ही सिखाया था..!!
# Humko Dubane Ki Koshish Bhi Unhone Hi Ki Thi,
Jinko Tairna Bhi Humi Ne Sikhaya Tha..!!
# मुझे दुनिया से कोई मतलब नहीं है अब,
मुझे तो सिर्फ तेरा वक्त और तेरा प्यार चाहिये था..!!
# Mujhe Duniya Se Koi Matlab Nhi Hai Ab,
Mujhe To Sirf Tera Waqt Aur Tera Pyar Chahiye Tha..!!