Mood Off Status Mood off Shayari For Whatsapp Status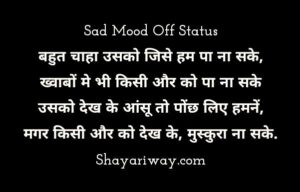 बहुत चाहा उसको जिसे हम पा ना सके,
ख्वाबों मे भी किसी और को पा ना सके
उसको देख के आंसू तो पोंछ लिए हमनें,
मगर किसी और को देख, मुस्कुरा ना सके.
Bahut Chaha Usko Jise Hum Paa Na Sake
Khawabo Me Bhi Kiso Or Ko Paa Na Sake
Usko Dekh Ke Aanshoo To Pochh Liye Humne
Magar Kisi Or Ko Dekh Ke Mishkura Na Sake.
छोड दिया जख्मों मे मरहम लगाना
तेरे मुस्कुराने से जख्म भरे नजर आते हैं
Chhod Diya Zakhmo Par Marham Lagana
Tere Mushkurane Se Zakh Bhare Nazar Aate Hai.
छोड दिया हमनें रहना
बेवफाओं के शहर मे
क्योंकि दर्द होता हैं इतना
जितना होता हैं किसी जहर मे
Chhod Diya Humnein Rahna
Bewafao Ke Sahar Mein
Kyoki Dard Milta Hai Itna
Jitna Hota Hai Kisi Zahar Me.
ये बेवफाओं की फितरत भी कमाल होती हैं
दिलों से पत्थर और चहरों से गुलाब होती हैं
Ye Bewafa Ki Fitrat Bhi Kamal Hoti Hai
Dilo Se Pathar Aur Chahro Se Gulab Hoti Hai.
माना हम चहरें के सुंदर नहीं
मगर दिल के साफ है
इसलिए तो हम बहुत कम
लोगों के खास है..!!
Mana Hum Chahre Ke Sunder Nhi
Magar Dil Ke Saaf Hai
Iisliye To Hum Bahut Kam Logo Ke Khaas Hai..!!
Related Posts: