Gam Bhari Shayari In Hindi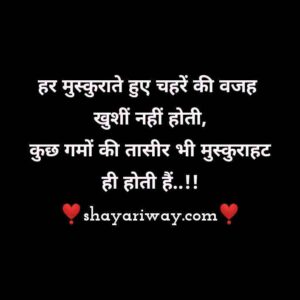 # हर मुस्कुराते हुए चहरें की वजह खुशीं नहीं होती
कुछ गमों की तासीर भी मुस्कुराहट ही होती हैं..!!
# Har Muskurate Hue Chehre Ki Vajah Khusi Nhi Hoti
Kuch Gamo Ki Tasheer Bhi Muskuraht Hi Hoti Hai..!!
# मुझ सा दुनिया में फिर से तलाशने लगे हो तो सुनो
अब मैं खुद भी चाहूँ तो वैसा न बन पाऊँगा..!!
# Mujhsa Duniya Me Fir Se Talashne Lage Ho To, Suno
Ab Main Khud Bhi Chahu To Vaisa Na Ban Paaunga..!!
# मैं हसते हुए अपना दुख बताता चला गया,
वो मुस्कुरा कर हर ग़म को सुनते चले गए..!!
# Main Hash Hash Kar Apna Dukh Batata Chala Gya,
Vo Mushkura Kar Har Gam Ko Sunte Chale Gye..!!
Gam Shayari
# दिल मे दर्द होता है यह सोचकर कि,
मुझे ऐसा भी क्या पाना था,
जो मैंने खुद को भी खो दिया।
# Dil Me Dard Hota Hai Yeh Sochkar Ki
Mujhe Aisa Bhi Kya Pana Tha,
Jo Maine Khud Ko Bhi Kho Diya..!!
# अक्सर जब हम आपको याद करते हैं
अपने खुदा से बस यही फरयाद करते हैं,
उम्र हमारी भी लग जाये आपको
हम तो वैसे भी मौत का इंतजार करते है..!!
# Aksar Jab Hum Aapko Yaad Karte Hai
Apne Rab Se Bas Yhi Faryaad Karte Hai,
Umer Humari Bhi Lag Jaye Aapko
Hum To Vaise Bhi Maut Ka Intezaar Karte Hai..!!
# आज फिर खुदा ने मुझसे पूछा
तेरा हसता हुआ चहरा उदास क्यों है,
जिनकी नजरों मे तू कुछ भी नहीं
वो तेरे लिए इतने खास क्यों है..!!
# Aaj Phir Khuda Ne Mujhse Pucha
Tera Hasta Hua Chehra Udaas Kyu Hai,
Jinki Nazro Me Tu Kuch Nhi
Wo Tere Liye Itne Khaas Kyu Hai..!!