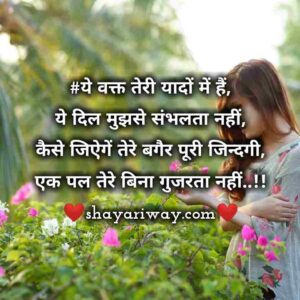 Yaad Shayari In Hindi
#ये वक्त तेरी यादों में हैं, ये दिल मुझसे संभलता नहीं,
कैसे जिऐगें तेरे बगैर पूरी जिन्दगी, एक पल तेरे बिना गुजरता नहीं..!!
#Ye Waqt Teri Yaado Me Hai, Ye Dil Mujhse Sbhalta Nhi,
Kaise Jiyenge Tere Bagair Puri Zindagi, Ek Pal Tere Bina Guzarta Nhi..!!
#तेरी यादों को याद करके, मुझे अपनी तकदीर नजर आती हैं,
कैसे कहूँ हर जगह नही हैं तू, मुझे सारे जहां मे तेरी तस्वीर नजर आती हैं..!!
#Teri Yaado Ko Yaad Karke, Mujhe Apni Taqdeer Nazar Aati Hai,
Kaise Kahu Har Jagah Nhi H Tu, Mujhe Saare Jahan Me Teri Tasveer Nazar Aati Hai..!!
#देखकर तुम्हें दिल में ऐसी दस्तक होती है
जैसे लहरों से सागर मे हलचल होती है,
सोचते थे कभी तुम्हें बता ना पाएंगे
इन आँखों में तरी सूरत हर पल बसती है…!!!
#Dekhkar Tumhe Dil Me Aisi Dastak Hoti Hai
Jaise Lehron Se Sagar Me Halchal Hoti Hai,
Sochte The Kabhi Tumhe Bata Naa Payenge
In Aankho Me Teri Surat Har Pal Basti Hai…!!!
Heart Touching Status Shayari
#जिस रात बरसते हैं तेरी यादों के बादल
उस रात आसमां मे तारें नजर नहीं आते,
खो जाता हूँ मैं तेरे ही ख्यालों मे
फिर मुझे अपने गमं भी नजर नहीं आते…!!!
#Jis Raat Baraste Hai Teri Yaado Ke Badal
Us Raat Aasma Me Taare Nazar Nahi Aate,
Kho Jata Hoo Main Tere Hi Khayalo Me
Fir Mujhe Apne Gam Bhi Nazar Nahi Aate…!!!
#जरूरी नहीं हर वक्त लबों पे तेरा ही नाम आये,
वो लम्हा कभी आता नही जब जहन मे तेरी याद ना जाये..!!
Zaruri Nhi Har Waqt Labon Pe Tera Hi Naam Aaye,
Vo Lamha Kabhi Aata Nhi Jab Jahen Me Teri Yaad Na Jaye..!!
#जब सोचता हूँ दुनिया मे मोहब्बत को,
तो याद सिर्फ तेरी आती हैं..!!
#Jab Sochta Hoo Duniya Me Mohobbat Ko,
To Yaad Sirf Teri Aati Hai..!!