Best Maa Baap Shayari In Hindi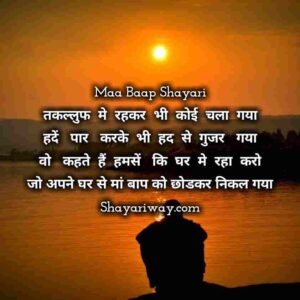 मंजिलें बहुत ऊची चढा़ मगर कुछ ना नजर आया,
मां के कदमों में देखा तो जन्नत का दरवाजा नजर आया
Manzile Bahut Unchi Chada Magar Kuch Na Nazar Aaya,
Maa Ke Kadmo Me Dekha To Zannat Ka Darwaza Nazar Aaya.
तकल्लुफ  मे  रहकर  भी  कोई  चला  गया
हदें   पार   करके  भी  हद  से  गुजर   गया
वो   कहते  हैं  हमसें   कि  घर  मे  रहा  करो
जो अपने घर से मां बाप को छोडकर निकल गया
Taqalluf Me Rehkar Bhi Koi Chala Gya
Hadein Par Karke Bhi Had Se Guzar Gya
Vo Kehte Hai Humse Ki Ghar Me Rha Karo
Jo Apne Ghar Se Maa Baap Ko Chhodkar Nikal Gya.
कोई दुख हो तो वो समझ जाती हैं
अपने गमं छुपा के हंस जाती हैं
मैने देखा नहीं कोई समझदार इतना
बिना कहे मां सबकुछ समझ जाती हैं
Koi Dukh Ho To Vo Samajh Jati Hai
Apne Gam Chhupa Ke Hash Jati Hai
Maine Sekha Nhi Koi Samjhdar Itna
Bina Kahe Maa Sabkuch Samajh Jati Hai.
मां की दुआएं जिन्दगी को जन्नत बना देती हैं,
वो खुद रो कर भी हमें हसना सिखा देती हैं..!!
Maa Ki Duaye Zindagi Ko Zannat Bana Deti Hai,
Vo Khud Ro Kar Bhi Hume Hasna Sikha Deti Hai..
डांटकर बच्चों को वो खुद रोती हैं,
वो कोई और नही, सिर्फ मां होती हैं..!!
Datkar Baccho Ko Vo Khud Roti Hai,
Wo Koi Or Nhi Aisi Sirf Maa Hoti Hai..
मजबूरी बडी हो तो भी किसी का दिल ना तोडना
और धरती पर ही जन्नत देखनी हो तो
अपने मां बाप को अकेला ना छोड़ना
Mazburi Badi Ho To Bhi Kisi Ka Dil Na Todna Aur Dharti Par Hi Zannat Dekhni Ho To
Apne Maa Baap Ko Akela Naa Chhodna.
Realated Posts