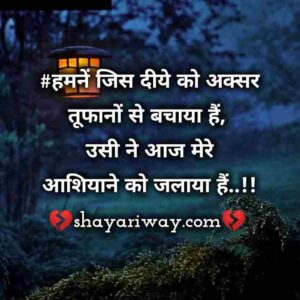 Dard Shayari In Hindi
#हमनें जिस दीये को अक्सर तूफानों से बचाया हैं,
उसी ने आज मेरे आशियाने को जलाया हैं..!!
#Humne Jis Diye Ko Aksar Tufaano se Bachaya Hai,
Usi Ne Aaj Mere Aasiyane Ko Jalaya Hai..!!
#यादों मे उनकी हम परवाने हो गये,
दिल से वो अब बेगाने हो गये,
कही और ढूढते है वो अपना आशियाना,
क्योंकि उनके लिए हम पुराने हो गये…!!!
#Yaadon Me Unki Hum Parwane Ho Gaye,
Dil Se Wo Ab Begaane Ho Gaye,
Kahi Or Dudhte Hai Wo Apna Aashiyana,
Kyuki Unke Liye Hum Purane Ho Gaye…!!!
#कसूर मोहब्बत का नहीं उसे तो मुझसे रूठना ही था,
शीशे का था ये दिल मेरा, शीशे का अंजान तो टूटना ही था..!!
#Kasoor Mohobbat Ka Nhi Use To Mujhse Rutna Hi Tha,
Sishe Ka Tha Ye Dil Mera, Sishe Ka Anzaam To Tutna Hi Tha..!!
Dard Status In Hindi Shayari
#नादानी मे हमनें जिससे दिल का नाता जोडा था,
बेखुदी मे आज उसने ही मेरे दिल को तोडा हैं..,!!
#Nadani Me Humne Jisse Dil Ka Nata Joda Tha,
Bekhudi Me Aaj Usne Hi Mera Dil Ko Toda Hai..!!
#टूटे हुए दिल को जोड़कर फिर तोड दिया तुमने,
पहले भी अकेले थे हम अब फिर से अकेला छोड़ दिया तुमने..!!
#Tute Hue Dil Ko Jordkar Fir Tod Diya Tumne,
Pahle Bhi Akele The Hum Ab Fir Se Akela Chhod Diya Tumne..!!
#मैनें भी अपने दिल को समझा लिया होता,
अगर उसने मेरा साथ दिया ना होता..!!
#Maine Bho Apne Dil Ko Samjha Liya Hota,
Agar Usne Mera Saath Diya Naa Hota..!!