Heart Touching Love Shayari Status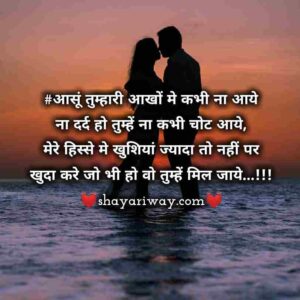 Heart Touching Shayari
# आसूं तुम्हारी आखों मे कभी ना आये
ना दर्द हो तुम्हें ना कभी चोट आये,
मेरे हिस्से मे खुशियां ज्यादा तो नहीं पर
खुदा करे जो भी हो वो तुम्हें मिल जाये…!!!
# Aansu Tumhari Aankho Me Kabhi Naa Aaye
Naa Dard Ho Tumhe Naa Kabhi Chot Aaye,
Mere Hisse Me Khushiyan Jyada To Nahi Par
Khuda Kare Jo Bhi Ho Vo Tumhe Mil Jaye…!!!
# अपने प्यार का हिसाब नहीं आता
उनका पलटकर कोई जवाब नहीं आता,
हम तो उनकी यादों में सोते तक नहीं
और उन्हें सोने के बाद भी ख्याल नहीं आता…!!!
# Hume Pyaar Ka Hissab Nahi Aata
Unka Palat Kar Koi Javab Nahi Aata
Hum To Unki Yaad Mein Sote Tak Nahi
Or Unhe So Kar Bhi khayal Nahi Aata…!!!
# बनकर लफ्ज़ हम बातों मे मिलेंगे
बनकर महक हम गुलाबों मे मिलेंगे,
वादा हैं आपसे करोगे जब कभी याद हमें
बनकर यादों की किताब आपके ख्यालों में मिलेंगे
# Bankar Lafz Hum Baaton Me Milenge
Bankar Mahak Hum Gulabo Me Milenge,
Wada Hai Aapse Karoge Jab Kabhi Yaad Humen,
Bankar Yaado Ki Kitaab Aapke Khayalo Me Milenge…!!
Love Shayari Status For Him
# जब तेरी यादों से दिल टकरा जाता हैं,
ना चाहकर भी चुप हो जाता हैं,
कोई मागता हैं इबादत इश्क की,
कोई खामोशीं से प्यार निभाता है…!!!
# Jab Teri Yaado Se Dil Takra Jata Hai,
Naa Chahakar Bhi Chup Ho Jata Hai,
Koi Magta Hai Ibadat Ishq Ki,
Koi Khamosi Se Pyaar Nibhata Hai…!!!
#लगता नहीं हैं दिल अब तुम्हारे बिना
रहने लगे हैं तन्हा तुम्हारे बिना,
आ जाओ लौटकर जल्दी पास हमारे
वरना मर जाऐंगे हम तुम्हारे बिना…!!!
#Lagta Nhi Hai Dil Ab Tumhare Bina
Tehne Lage Hai Tanha Tumhare Bina,
Aa Jao Lautkar Jaldi Paas Humare
Varna Mar Jayenge Hum Tumhare Bina…!!!