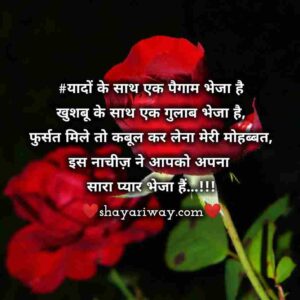 Shayari On Dil For Girlfriend
यादों के साथ एक पैगाम भेजा है
खुशबू के साथ एक गुलाब भेजा है,
फुर्सत मिले तो कबूल कर लेना मेरी मोहब्बत
इस नाचीज़ ने आपको अपना सारा प्यार भेजा हैं…!!!
Yaado Ke Sath Ek Paigam Bheja Hai
Khusbu Ke Sath Ek Gulaab Bheja Hai,
Fursat Mile To Qabul Kar Lena Meri Mohobbat
Is Nachiz Ne Aapko Apna Sara Pyaar Bheja Hai…!!!
मुक्कदर मे आपके सारी खुशियां भर दे
खुशीं के फूलों से आपका दामन भर दे,
होगें जिस वक्त आप सबसे ज्यादा खुश
खुदा उस वक्त को हजार गुणा कर दे…!!!
Mukaddar Me Aapke Sari Khusiya Bhar De
Khusi Ke Phoolo Se Aapka Daman Bhar De,
Honge Jis Waqt Aap Sabse Jyada Khush
Khuda Us Waqt Ko Hazaar Guna Karde…!!!
जब कभी आपका दिल उदास होगा
हमें याद कर लेना, खुशीं का एहसास होगा,
जब कभी छोड़ जायेगें आपको सब अकेले
हमारा हाथ फिर भी आपके साथ होगा…!!!
Jab Kabhi Aapka Dil Udaas Hoga
Hume Yaad Kar Lena, Khusi Ka Ehsaas Hoga,
Jab Kabhi Chhod Jayenge Aapko Sab Akele
Humara Haath Fir Bhi Aapke Saath Hoga…!!!
Heart Touching Love Shayari Status
हमारी तन्हाइयों को कोई समझ पाया ही नहीं
कितना प्यार करते हैं कोई जान पाया ही नहीं,
किसी को तो हो हमारी कमी भी महसूस
मगर खुदा हमें इतना किमती बना पाया ही नहीं…!!!
Humari Tanhaiyo Ko Koi Samjh Paya Hi Nhi
Kitna Pyar Karte Hai Koi Jaan Paya Hi Nhi,
Kisi Ko To Ho Humari Kami Bhi Mehsoos
Magar Khuda Humein Itna Keemti Bana Paya Hi Nhi…!!!
चले आओ हम तुम्हें दिल से याद करते है
ये गुनाह हम दिन मे हजार बार करते है,
दिल मे जला कर चिराग हसरतों का
हम तुम्हारे आने का इंतजार करते है…!!!
Chale Aao Hum Tumhe Dil Se Yaad Karte Hai
Ye Gunah Hum Din Me Hazaar Baar Karte Hai,
Jala Kar Chiraag Hasrato Ka Dil Mein
Hum Tumhare Aane Ka Intezaar Karte Hai…!!!
Related Posts