Heart Touching Feeling Shayari Status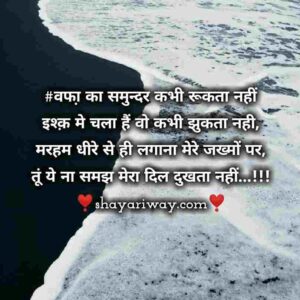 #वफा़ का समुन्दर कभी रूकता नहीं
इश्क़ मे चला हैं वो कभी झुकता नही,
मरहम धीरे से ही लगाना मेरे जख्मों पर,
तूं ये ना समझ मेरा दिल दुखता नहीं…!!!
#Vafa Ka Samundar Kabhi Rukta Nhi
Ishq Me Chala Hai Vo Kabhi Jhukta Nhi,
Marham Dheere Se Hi Lagana Mere Zakhmo Par
Tu Ye Na Samajh Mera Dil Dukhta Nhi…!!!
#दिल से बाते करता हूँ इसलिए जुबां से चुप हूँ
अपनी तन्हाई के सागर मे इसलिए गुम हूँ,
सुना तो दूं जमाने को मैं अपने दिल की दास्तान
मगर जुर्म तुझ पर ही आएगा इसलिए चुप हूँ…!!!
#Dil Se Baate Karta Hoo Isliye Juba Se Chup Hoo,
Apni Tanhai Ke Sagar Me Isliye Gum Hoo,
Suna To Du Jamane Ko Main Apne Dil Ki Dastan,
Magar Zurm Tujh Par Hi Aayega Isliye Chup Hoo…!!!
Dil Se Shayari In Hindi
#इश्क़ के कुछ अंदाज अलग होते हैं
खुसबू से सूखे हुए गुलाब अलग होते है,
आसूं तो निकल आते हैं खुशीं मे भी
जख्म भरे दिल के शैलाब अलग होते हैं…!!
#Ishq Ke Kuch Andaaz Alag Hote Hai
Khusbu Se Sukhe Hue Gulaab Alag Hote Hai,
Aanshu To Nikal Aate Hai Khusi Mein Bhi
Magar Zakhm Bhare Dil Ke Shailab Alag Hote Hai…!!!
#मोहब्बत इतनी थी, हम बता ना सके
चोट दिल मे थी, हम दिखा ना सके,
दूर होकर बिछडना कोई इत्तेफाक नहीं
दूरियां इतनी थी, हम मिटा ना सके…!!!
#Mohobbat Itni Thi, Hum Bata Naa Sake
Chot Dil Me Thi, Hum Dikha Naa Sake,
Door Hokar Bichhadna Koi Ittefaq Nhi
Dooriya Itni Thi, Hum Mita Na Sake…!!!
#मेरे दिल ने हमेशा उन्हें खुशीं दी
बदले मे उन्होंने सिर्फ़ खामोशीं दी,
दुआओं मे खुदा से मौत भी माग ली
मगर तडपने के लिए जिन्दगी बक्स दी…!!!
#Mere Dil Ne Hamesha Unhe Khusi Di
Badle Me Unhone Sirf Khamoshi Di,
Duao Mein Khuda Se Maut Bhi Mang Li
Magar Tadapne Ke Liye Zindagi Baks Di…!!!
Related Shayari