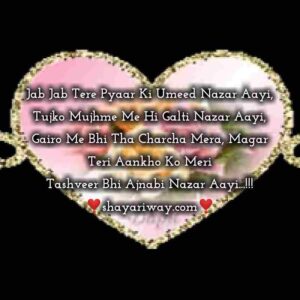 Udaas Shayari In Hindi
#जब जब तेरे प्यार की उम्मीद नजर आई,
तुझको मुझ मे ही गलती नजर आई,
गैरों मे भी था चर्चा मेरा, मगर
तेरी आखों को मेरी तस्वीर भी अजनबी नजर आई…!!!
#Jab Jab Tere Pyaar Ki Umeed Nazar Aayi,
Tujko Mujhme Me Hi Galti Nazar Aayi,
Gairo Me Bhi Tha Charcha Mera, Magar
Teri Aankho Ko Meri Tashveer Bhi Ajnabi Nazar Aayi…!!!
#बहुत दूर मगर बहुत पास रहते हो,
आखों से दूर मगर दिल के पास रहते हो,
कुछ नही पूछना मुझे सिर्फ इतना बता दो,
क्या तुम भी मेरे बिना उदास रहते हो…!!!
# Bahut Dur Magar Bahut Pass Rahte Ho,
Aankhon Se Door Sahi Magar Dil Ke Pass Rahte Ho,
Kuch Nhi Puchna Mujhe Sirf Itna Bata Do,
Kiya Tum Bhi Mere Bina Udaas Rahte Ho…!!!
#आपने हमको दिये हैं लाखों जख्म,
इन जख्मों को हम भूला नहीं सकते,
भले आपने रूलाया हैं हमें इतना,
मगर हम आपको कभी रूला नहीं सकते…!!!
#Aapne Humko Diye Hai Lakho Zakm,
in Zakmo Ko Hum Bhula Nahi Sakte,
Bhale Aapne Rulaya Hai Hume itna,
Magar Hum Aapko Kabhi Rula Nahi Sakte…!!!
#आसूं ना होते तो आखें इतनी खुबसूरत ना होती,
गम ना होते तो खुशीं की कुछ कीमत ना होती,
जो दिल चाहता है वो सबको अगर मिल जाता,
तो दुनिया मे खुदा की जरूरत ना होती…!!!
# Aanshu Naa Hote To Aankhe Itni Khoobsurat Naa Hoti,
Gum Naa Hote To Khushi Ki Kuch Kimat Naa Hoti,
Jo Dil Chahta Wo Sabko Agar Mil Jata,
To Duniya Me Khuda Ki Zarurat Na Hoti…!!!
#खुदा ने हमें एक दिल दिया है,
उसमे रखने के लिए एक चहरा दिया है,
हम जिसे करते हैं दिल से याद,
उसी ने हमें आज अजनबी करार दिया है…!!!
#Khuda Ne Hume Ek Dil Diya Hai,
Usme Rakhne Ke Liye Ek Chehra Diya Hai,
Hum Jise Karte Hai Dil Se Yaad,
Usi Ne Hume Aaj Ajnabi Qrar Diya Hai…!!!