Two Line Shayari In Hindi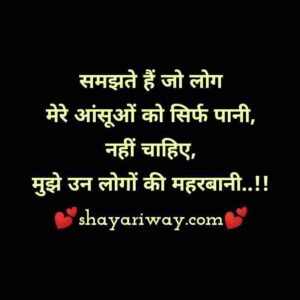 # समझते हैं जो लोग मेरे आंंसूओं को सिर्फ पानी,
नहीं चाहिए, मुझे उन लोगों की महरबानी..!!
# Samajhte Hai Jo Log Mere Aanshuo Ko Sirf Paani,
Nhi Chahiye, Mujhe Un Logo Ki Mehrbaani..!!
# दुनिया को हकीकत मेरी कुछ पता नहीं,
इलजाम हजारों हैं खता कुछ पता नहीं..!!
# Duniya Ko Haqiqat Kuch Pata Nhi,
Ilzaam Hazaron Hai Khata Kuch Pata Nhi..!!
# बातों में ज्यादा वजन होना जरूरी हैं, क्योंकि
शरीर का वजन तो सबका बढ़ा हुआ है..!!
# Baaton Me Jyada Vajan Hona Zaruri Hai,
Kyoki Sareer Kaa Vajan To Sabka Bada Hua Hai..!!
# सुना है बडी प्यारी हो तुम,
हमें क्या, कौनसा हमारी हो तुम..!!
# Suna Hai Badi Pyaari Ho Tum,
Hume Kya, Konsa Humari Ho Tum..!!
Attitude Shayari
# मुझे पाने की तेरी औकात नहीं, क्योंकि
वफादारी तेरे बस की बात नहीं..!!
#Mujhe pane ki Teri Aukaat nhi.
Kyo ki Wafadari Tere Bas ki Baat Nhi..!!
# हाँथ अगर थामों तो ज़िन्दगी भर का साथ देना,
कुछ पल के साथी तो जनाज़े में भी शामिल हो जाते हैं..!!
# Haath Agar Thamo To Zindagi Bhar Ka Saath Dena,
Kuch Pal Ke Saathi To Zanaje Me Bhi Samil Ho Jate Hai..!!
# कितने भी अच्छे कर्म कर लो जनाब,
तारिफें सिर्फ शमशान मे जाकर ही होती हैं..!!
# Kitne Bhi Acche Karam Kar Lo Zanaab,
Tareefe Sirf Samsaan Me Jakae Hi Hoti Hai..!!
# हमने कब कहा हमसे प्यार कीजिए,
नफरत कर सको, तो बेसुमार कीजिए..!!
# Humne Kab Kaha Humse Pyaar Kijiye,
Nafrat Kar Sako, To Besumaar Kijiye..!!
# हम अपनी इसी अदा पर तो गुरूर करते हैं,
प्यार हो या नफरत दोनों ही भरपूर करते हैं..!!
# Hum Apni Isi Adaa Par To Gurur Karte Hai,
Pyar Ho Ya Nafrat Dono Hi Bharpoor Karte Hai..!!