Two Line Shayari In Hindi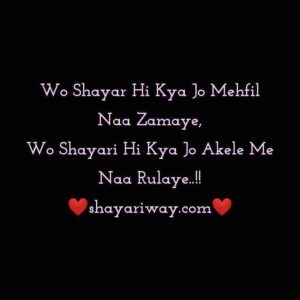 # वो शायर ही क्या जो महफ़िल ना जमाए,
वो शायरी ही क्या जो अकेले में ना रुलाए..!!
# Wo Shayar Hi Kya Jo Mehfil Naa Zamaye,
Wo Shayari Hi Kya Jo Akele Me Na Rulaye..!!
#परखने वाले हजारों मिलें हैं मुझे, मगर
अफसोस कोई समझ ना सका मुझे..!!
# Parakhne Wale Hazaron Mile Hai Mujhe, Magar
Afshos Koi Samajh Na Saka Mujhe..!!
# कोशिश मत कर तू सभी को खुश रखने की,
नाराज तो यहां खुदा से भी है लोग..!!
# Koshish Mat Kar Tu Sabhi Ko Khush Rakhne Ki,
Naraz To Yha Khuda Se Bhi Hai Log..!!
# ये अदा तुमने कहाँ से सिखी हैं,
अपनी गैरहाजिरी मे भी हाजिर होने की..!!
# Ye Ada Tumne Kha Se Sikhi Hai,
Apni Gairhazri Me Bhi Hazir Hone Ki..!!
# ना जाने जवाब क्या होता उधर से,
इसलिए सवाल ही ना किया हमनें..!!
# Na Jaane Jawab Kya Hota Udhar Se,
Isliye Sawal Hi Na Kiya Humne..!!
Attitude Status Shayari
#इसे कोई इत्तेफाक कहें या दर्दनाक हकीकत
आँखें जब भी नम हुई, वजह सिर्फ तुम ही निकले..!!
# Ise Koi Ittefaq Kahe Ya Koi Dardnaak Haqiqat,
Aankhe Jab Bhi Nam Hui, Vajah Sirf Tum Hi Nikle..!!
# जिंदगी में अच्छे और बुरे लोग बहुत मिलते हैं,
मगर इनमें वो चंद होते हैं जिन्हें देखकर ही दिल खिलते हैं..!!
# Zindagi Mein Acche Aur Bure Log Bahut Milte Hai,
Magar Inme Vo Chand Hote Hai Jinhe Dekhkar Hi Dil Khilte Hai..!!
# मेरे इश्क़ का वो इतना ख्याल करे,
जब भी मैं उसको सोचुं, वो मुझको कॉल करे..!!
# Mere Ishq Ka Wo Itna Khayal Kare,
Jab Bhi Main Ushko Sochu, Wo Mujhko Call Kare..!!
# मेरे हर ख्याल पर हुकूमत है तेरी,
मेरा हाथ थाम ले मुझे जरूरत है तेरी..!!
# Mere Har Khayal Par Huqumat Hai Teri,
Mera Haath Thaam Le Mujhe Zarurat Hai Teri..!!
# मिल जाये उलझनों से फ़ुर्सत, तो ज़रा दिल से याद करना
क्या यही है मोहब्बत, अकेले में याद करना..!!
# Mil Jaye Uljhano Se Fursat, To Zara Dil Se Yaad Karna,
Kya Yhi Hai Mohabbat, Akele Me Yaad Karna..!!