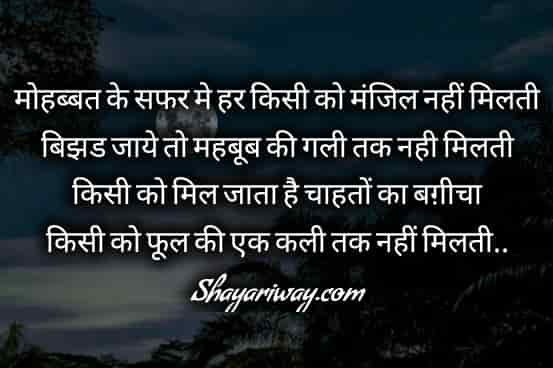 मोहब्बत के सफर मे हर किसी को मंजिल नहीं मिलती
बिझड जाये तो महबूब की गली तक नही मिलती
किसी को मिल जाता है चाहतों का बग़ीचा
किसी को फूल की एक कली तक नहीं मिलती..!!
Mohobbat Ke Safar Me Har Kisi Ko Manzil Nhi Milti
Bichhad Jaye To Mahboob Ki Gali Tak Nhi Milti
Kisi Ko Mil Jata Hai Chahato Ka Bagicha
Kisi Ko Fool Ki Ek Kali Tak Nhi Milti..!!
जिसने जैसा चाहा वैसा ढल गये हम
बहुत संभल कर चले मगर फिसल गये हम
किसी ने विश्वास तोडा तो किसी ने दिल तोडा
और लोगों को लगा कि बदल गये हम..!!
Jisne Jaisa Chaha Vaisa Dhal Gye Hum
Bahut Sambhal Kar Chale Magar Fisal Gye Hum
Kisi Ne Dil Toda To Kisi Ne Dil Toda
Aur Logo Ko Laga Ki Badal Gye Hum..!!
हम पर सितम बस इतना कर दो
कि जीते जी हमें अपना कर दो
हो जाएंगे हम भी बर्बाद इस फिक्र मे
कही तुम हमे दिल से जुदा ना कर दो..!!
Hum Par Sitam Bas Itna Kar Do
Ki Jeete Jee Humein Apna Kar Do
Ho Jaenge Hum Bhi Barbaad Is Fikar Me
Kahi Tum Humein Dil Se Juda Na Kar Do..!!
बदनसीबी कहूं या वक्त की बेबसी
कत्ल कहूं या मैं अपनी खुदकुशी
जीना नही था मगर मर ना सके
इसे क़िस्मत कहूं या मौत की बेबसी..!!
Badnaseebi Kahu Ya Waqt Ki Bekashi,
Qatal Kahu Ya Main Apni Khudkhushi,
Jeena Nhi Tha Magar Mar Na Sake,
Ise Kismat Khu Ya Maut Ki Bebashi..!!
दिल की हर बात मे चाहत नहीं होती
दिल जब टूटता है तो आहट नहीं होती
करते हैं सब मोहब्बत मे बडी बडी बातें
मगर हर किसी की बातों मे चाहत नहीं होती..!!
Dil Ki Har Baat Me Chahat Nhi Hoti
Dil Jab Tutata Hai To Aahat Nhi Hoti
Karte Hai Sab Mohobbat Me Badi Badi Baate
Magar Har Kisi Ki Baato Me Chahat Nhi Hoti..!!
Related Shayari
मोहब्बत शायरी, हमें छोड़कर कहां जाओगे