मोहब्बत भरी शायरी, Mohobbat Bhari Shayari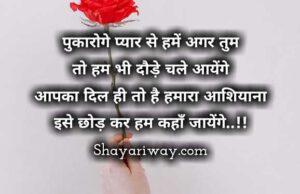 पुकारोगे प्यार से हमें अगर तुम
तो हम भी दौड़े चले आयेंगे
आपका दिल ही तो है हमारा आशियाना
इसे छोड़ कर हम कहाँ जायेंगे..!!
Pukaroge Pyar Se Humein Agar Tum
To Him Bhi Dode Chale Aayenge
Aapka Dil Hi To Hai Humara Aasiyana
Ise Chhod Kar Hum Kaha Jayenge..!!
हमारी किसी खता से खफा मत होना
नादानी मे हमसे नाराज मत होना,
पहली बार चाहा है हमने किसी को इतना
चाह कर भी हमसे कभी दूर मत होना…
Humari Kisi Khata Se Khafa Mat Hona
Nadani Se Humse Naraz Mat Jona
Pahli Baar Chaha Hai Humne Kisi Ko Itna
Chaha Kar Bhi Humse Kabhi Door Mata Hona
अगर करीब ही आना है
तो इतना करीब आना कि
इस दिल को पता भी ना चले
कि धड़कनें तुम्हारी है या हमारी..!!
Agar Kareeb Hi Aana Hai
To Itna Kareeb Aana Ki
Is Dil Ko Pata Bhi Na Chale Ki
Dhadkane Tumhari Hai Ya Humari..!!
ख्वाबों मे तेरा हाथ पकड कर रोज घूमती हूँ
जब ख्वाब टूटता हैं तो
सबसे पहले अपना हाथ चूमती हूँ..!!
Khwabo Mein Tera Haath Pakad Kar Roz Ghumti Hu
Jab Khwab Tut-Ta Hai
Toh Sabse Phele Apna Haath Chumti Hu..!!
तू ही बता कैसे छोर दूँ मैं तुझसे मोहब्बत करना
तू मेरे नसीब में ना सही मगर मेरे दिल में तो हैं।
Tu Hi Bata Kaise Chhor Du Main Tujhe Mohobbat Karna
Tu Mere Naseeb Me Naa Sahi Magar Mere Dil Me To Hai.
तेरे दिल का मेरे दिल का रिश्ता अजीब है
मीलों की दूरियां हैं मगर धड़कन करीब है
Tere Dil Ka Mere Dil Ka Rista Ajeeb Hai
Milo Ki Duriya Hai Magar Dhadkan Kareeb Hai
मत तलाशो यूँ आँखों में मेरी तस्वीर को,
हम आँखों में नहीं तुम्हारी साँसों में रहते हैं
Mat Talaso Yu Aankho Me Meri Tashveer Ko
Hum Aankho Me Nhi Tumhari Sanso Me Rahte Hai.
Related Shayari