Sad Shayari in Hindi for Girlfriend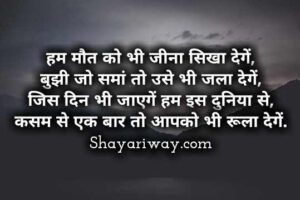 #हम मौत को भी जीना सिखा देगें,
बुझी जो समां तो उसे भी जला देगें,
जिस दिन भी जाएगें हम इस दुनिया से,
कसम से एक बार तो आपको भी रूला देगें…!!
#Hum Mout Ko Bhi Jeena Sikha Denge,
Bujhi Jo Shama To Use Bhi Jala Denge,
Jis Din Bhi Jayenge Hum Is Duniya Se,
Kasam Se Ek Baar To Aapko Bhi Rula Denge…!!!
#ना हाल पूछा जाए ना बात की जाए,
दिल मे हमेशा हो पर ना दिदार किया जाए,
ये अजीब सी जुदाई हैं तेरे इश्क में,
ना मौत आए और ना जिया जाए…!!
#Naa Haal Pucha Jaye Naa Baat Ki Jaye,
Dil Me Hamesa Ho Par Naa Didar Kiya Jaye,
Ye Ajeeb Si Judaai Hai Tere Ishq Me,
Naa Maut Aaye Aur Naa Jiya Jaye…!!?
#उजड़ गया हैं मेरा बसेरा,
मगर तुफानों का पता नहीं,
तेरे बिन जीने लगा हूँ मैं,
मगर मौत का पता नहीं…!!
#Ujad Gya Hai Mere Basera,
Magar Tufano Ka Pata Nhi,
Tere Bin Jeene Laga Hu Main,
Magar Maut Ka Pata Nhi…!!!
Very Sad Shayari For Boyfriend
#इश्क में हम सब कुछ भूला बैठे हैं
रोशनी चिरागों से मिटा बैठे हैं,
मरेगे तो सिर्फ आप की बाहों में,
हम मौत से भी सर्त लगा बैठे हैं…!!
#Ishq Me Hum Sab Kuch Bhula Baite Hai,
Roshni Chirago Se Mita Baite Hai,
Marenge To Sirf Aap Ki Baaho Me,
Hum Maut Se Bhi Sart Laga Baite Hai…!!!
#हम वो नहीं जो तेरा साथ छोड़ देगें,
हम वो नहीं जो तन्हा अकेला छोड़ देगें,
हम तो वो मोहब्बत के फकीर हैं,
जो मौत तुझे बुलाए तो जिंदगी
से हम भी नाता तोड देगें..!!
#Hum Vo Nhi Jo Tera Saat Chhod Denge,
Hum Vo Nhi Jo Tanha Akela Chod Denge,
Hum To Vo Mohobbat Ke Faqeer Hai, Jo Maut Tujhe Bulaye To
Zindagi Se Hum Bhi Nata Tod Denge..!!!
Related Shayari