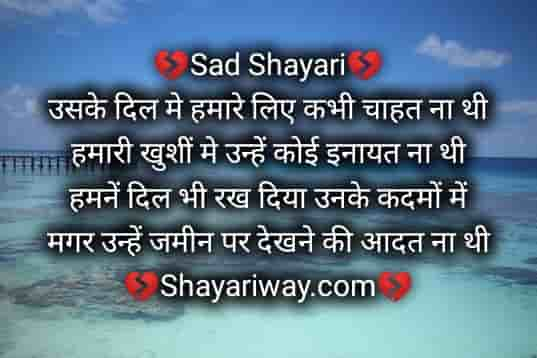 Very Heart Touching Sad Shayari
उसके दिल मे हमारे लिए कभी चाहत ना थी
हमारी खुशीं मे उन्हें कोई इनायत ना थी
हमनें दिल भी रख दिया उनके कदमों में
मगर उन्हें जमीन पर देखने की आदत ना थी..!!
Uske Dil Me Humare Liye Kabhi Chahat Naa Thi
Humari Khusi Me Unhe Koi Inayat Naa Thi
Humne Dil Bhi Rakh Diya Unke Kadmo Me
Magar Unhe Jameen Par Dekhne Ki Aadat Na Thi
दिल टूटा है मेरा, मैं कैसे मुस्कुराऊं
दिल के ज़ख्मों को मैं कैसे छूपाऊ
दिल दुखा है उसकी बेवफाई से आखिर
अब उस बेवफा से मैं कैसे वफा निभाऊ..!!
Dil Tuta Hai Mera Main Kaise Mushkurau
Dil Ke Zakhmo Ko Main Kaise Chhupau
Dil Dukha Hai Uski Bewafaai Se Aakhir
Ab Us Bewafa Se Main Kaise Wafa Nibhau..!!
जिन्दगी जीने का सलीका मेरा रहने दो
दिल के दर्द को दिल मे ही रहने दो
जिन्दगी को उस बेवफा से मत जोडो
मैं अधूरा हूँ मुझे अधूरा ही रहने दो..!!
Zindagi Jeene Ka Salikja Mera Rehne Do
Dil Ke Dard Ko Dil Me Hi Rehne Do
Zindagi Ko Us Bewafa Se Mat Joda
Main Adhura Hu Mujhe Adhura Hi Rehne Do.
हर दर्द को बताना भी जरूरी तो नही
हर किसी पर किस्मत का सितम जरूरी तो नहीं
कोई पत्थर सा दिल रखता है, मगर फिर भी
उससे कोई पत्थर ही टकराये जरूरी तो नहीं..!!
Har Dard Ko Batana Bhi Zaruri To Nhi,
Har Kisi Par Kismat Ka Sitam Zaruri To Nhi,
Koi Pathar Sa Dil Rakhta Hai, Magar Fir Bhi,
Us Se Koi Pathar Hi Takraye Zaruri To Nhi..!!
महफिल मे हूँ मगर तन्हा नजर आता हूँ
हकीकत नही है मगर नजरअंदाज नजर आता हूँ
कोई जाकर उसे कह दे कि वो साथ हैं सबके
मगर तेरे बिना गुमसुदा सा नजर आता हूँ..!!
Mehfil Me Hoo Magar Tanha Nazar Aata Hoo,
Haqiqat Nhi Hai Magar Nazarandaz Nazar Aata Hoo,
Koi Jakar Use Keh Bhi De Ki Wo Saath Hai Sabke,
Magar Tere Bina Gumsuda Sa Nazar Aata Hoo..!!
Related Shayari