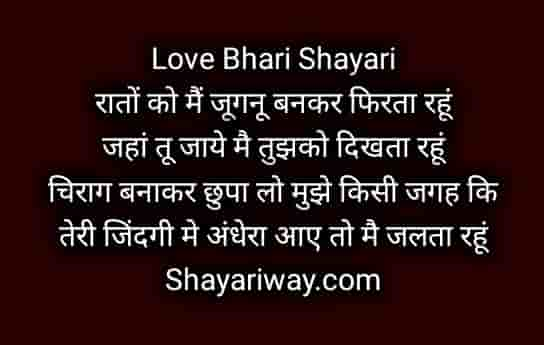 रातों को मैं जूगनू बनकर फिरता रहूं
जहां तू जाये मै तुझको दिखता रहूं
चिराग बनाकर छुपा लो मुझे किसी जगह कि
तेरी जिंदगी मे अंधेरा आए तो मै जलता रहूं
Raato Ko Main Jugnu Bankar Firta Rahu
Jaha Tu Jaye Main Tujhko Dikhta Rahu
Chirag Bana Kar Chhupa Lo Mujhe Kisi Jagah Ki
Teri Zindagi Me Andhera Aaye To Main Jalta Rahu.
हमसे जुदा होकर तुम कहां जाओगे
यादों में रहकर तन्हा रह जाओगे
करते हैं हम तुमसे प्यार इतना
कि हमारे बिना तुम कैसे रह पाओगे
Humse Zuda Hokar Tum Kaha Jaoge
Yaado Me Rahkar Tanha Rah Jaoge
Karte Hai Hum Tumse Pyar Itna
Ki Humare Bina Tum Kaise Rah Paoge.
भूलकर सबको मै तेरा होना चाहता हूं
बनाकर ख्वाब आंखों में सजाना चाहता हूं
ख्याल रखना अपना इस जहां में
मै तेरे संग जीना और मरना चाहता हूं..!!
Bhulkar Sabko Main Tera Hona Chahta Hoo
Banakar Khawab Aankhi Me Sajana Chahta Hoo
Khyal Rakhna Apna Is Jaha Me
Main Tere Sang Jeena Or Marna Chahta Hoo..!!
चहरा देखकर क्यों बातें करते हो
ऐसे मुस्कुरा कर क्यों आहें भरते हो
हम तो वैसे भी अकेले हैं तुम्हारे बिन
याद आकर आंखों में क्यो आसूं भरते हो
Chahra Dekhkar Kyo Baate Karte Ho
Aise Mushkura Kar Kyo Aahe Bharte Ho
Hum To Vaise Bhi Akele Hai Tumhare Bin
Yaad Aakar Ankho Me Kyo Aanshu Bharte Ho
संभालें संभलता नही है ये दिल अपना
देखकर तुझको लगता हैं जैसे कोई अपना
करना मत हमे जीवन भर अपने दिल से दूर
क्योकि जिंदगी भर साथ गुजारने का है सपना
Sambhale Sambhalta Nhi Hai Ye Dil Apna
Dekhkar Tujhko Lagta Hai Jaise Koi Apna
Karna Mat Hume Jivan Bar Apne Dil Se Diir
Kyoki Zindagi Bhar Sath Guzarne Ka Hai Sapna.
Related Shayari
Mahfil Me Rahkar Bhi Tanha Rahta Hai
Tujhe Dekh Ke Mushkura Na Sake