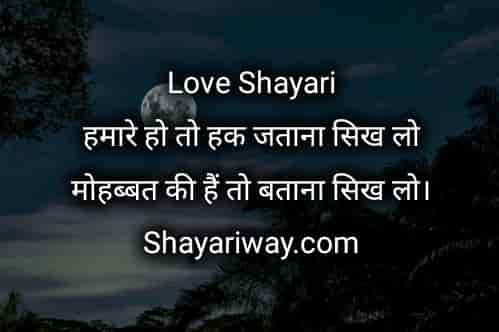 हमारे हो तो हक जताना सिख लो
मोहब्बत की हैं तो बताना सिख लो।
Humare Ho To Haq Jatana Sikh Lo
Mohobbat Ki Hai To Batana Sikh Lo.
इश्क की किताब का उसूल हैं साहब
मुडकर देखेगी तो मोहब्बत मानी जाएगी
Ishq Ki Kitab Ka Usul Hai Sahab
Mudkar Dekhegi To Mohobbat Mani Jaegi.
बस दो लफ्ज तुझे सुनाने के लिए
मैने लाखो लफ्ज लिख दिए जमाने के लिए
Bas Do Lafz Tujhe Sunane Ke Liye
Maine Lakho Lafz Likh Diye Zamane Ke Liye.
कभी कभी तुम भी कुछ जिक्र कर दिया करो
एकतरफा सुनवाई तो अदालत में होती है।
Kabhi Kabhi Tum Bhi Kuch Zikr Kar Diya Kari
Ektarfa Sunvayi To Adalat Me Hoti Hai..
इश्क उसका कुछ इस कद्र हावी है
दिल ताला हैं और नजरें उसकी चाबी है
Ishq Uska Kuch Is Kadar Haavi Hai
Dil Tala Hai Aur Nazre Uski Chabi Hai
मांगता हूँ खुदा से बस इतनी उम्र
कि ना मरू तुमसे पहले और ना जीऊ तुम्हारे बाद।
Mangta Hoo Khuda Se Bas Itni Umar
Ki Naa Maru Tumse Pahle Or Naa Jeeyu Tumhare Baad.
Related Shayari
Tera Hi Chahra Dikhayi Deta Hai