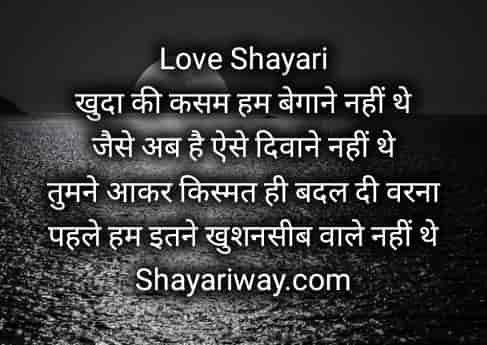 खुदा की कसम हम बेगाने नहीं थे
जैसे अब है ऐसे दिवाने नहीं थे
तुमने आकर किस्मत ही बदल दी वरना
पहले हम इतने खुशनसीब वाले नहीं थे
Khuda Ki Kasam Hum Begaane Nhi The
Jaise Ab Hai Aise Deewane Nhi The
Tumne Aakar Zindagi Hi Badal Di Varna
Pahle Hum Itne Khusnaseeb Wale Nhi The.
चलते चलते राहों में खोने लगा हूं
मै तुझसे बिछडकर अकेला होने लगा हूं
कैसे कटेगी ये जिंदगी बिन तुम्हारे
मै पहले से ज्यादा तेरा होने लगा हूं
Chalte Chalte Raho Me Khone laga Hoo
Main Tujhse Bichhadkar Akela Hone Laga Hoo
Kaise Kategi Ye Zindagi Bin Tumhare
Main Pahle Se Jyada Tera Hone Laga Hoo.
ढूंढता हूं मैं तुझे हर जगह
कहां रहती हो तुम दिलरूबा
देखता हूं हर रोज चांद मे तुझे
क्योकि एक वही तो है तेरी तरह
Dhundta Hu Main Tujhe Har Jagah
Kha Rahti Ho Tum Dilruba
Dekhta Hu Har Roz Chand Me Tujhe
Kyoki Ek Vahi To Hai Teri Tarah.
वो इतनी करीब हो गई
मैंने सोचा मेरी हो गई
सांसे थम सी गई थी
जैसे जिंदगी पूरी हो गई
Itni Kareeb Ho Gyi Vo
Maine Socha Meri Jo Gyi
Sanse Tham Si Gyi
Jaise Zindagi Puri Ho Gyi.
तन्हाइयों मे दिल संभाला नही जाता
तेरे बिना वक्त गुजारा नहीं जाता
आकर कर दो जिंदगी मे रोशनी
अंधेरे सी जिंदगी मे रहा नहीं जाता
Tnhayo Me Dil Sambhala Nhi Jata
Tere Bina Waqt Guzara Nhi Jata
Aakar Kar Do Zindagi Me Roshni
Andhere Si Zindagi Me Raha Nhi Jata
कुछ पल का एहसास बनकर आते हो तुम
अगले ही पल यादों में बस जाते हो तुम
जानते हो डर लगता है तन्हाइयों से मुझे
फिर भी हर बार तन्हा छोड जाते हो तुम
Kuch Pal Ka Ahsas Bankar Aate Ho Tum
Agle Hi Pal Yaado Me Bas Jate Ho Tum
Jante Ho Darr Lagta Hai Tanhaiyo Se Mujhe
Fir Bhi Har Baar Tanha Chhod Jate Ho Tum
Related Shayari
Tera Hi Chahra Dikhayi Deta Hai
Mohobbat Shayari, Aarzu Thi Kabhi