Tareef Shayari | Tere Bagair Maine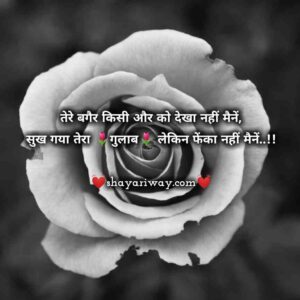 #तेरे बगैर किसी और को देखा नहीं मैनें,
सुख गया तेरा 🌷गुलाब🌷 लेकिन फेंका नहीं मैनें…!!
#Tere Bagair Kisi Or Ko Dekha Nhi Maine,
Sukh Gya Tera 🌹Gulab🌹 Lekin Faika Nhi Maine….
Tareef Shayari
#दूरियां बहुत हैं तेरे मेरे दरमियान,
पर तुझसे ज्यादा कोई करीब नही मेरे…!!
#Duriya Bahut Hai Tere Mere Darmiyaan,
Par Tujhse Jyada Koi Kareeb Nhi Mere..!!
Mohabbat Shayari
#कुछ तो सोचा ही होगा खुदा ने तेरे और मेरे बारे में,
वरना इतनी बडी दुनिया मे तुझसे ही क्यू मोहब्बत होती..!!
#Kuch To Socha Hi Hoga Khuda Ne Tere Or Mere Baare Mein,
Varna Itna Badi Duniya Mein Tujhse Hi Kyu Mohabbat Hoti..!!
#तेरे प्यार से ही जिन्दगी मे 🌹🌷रौनक़🌹🌷 हैं मेरे,
तभी तो खुद से ज्यादा तेरी सलामती की दुआं करते हैं..!!
#Tere Pyar Se Hi Zindagi Me Ronak Hai Mere,
Tabhi To Khud Se Jyada Teri Salamati Ki Dua Karte Hai…!!
#सच्ची 💕मोहब्बत💕 जिससे की जाती हैं
इज्ज़त उसकी खुद से भी ज्यादा की जाती हैं..!!
#Sacchi ❤️Mohabbat❤️ Jisse Ki Jati Hai,
Ijjat Uski Khud Se Bhi Jyada Ki Jati Hai..!!
Aankhe Shayari
#आखों ही आखों मे बातें करना इश्क नहीं होता,
उसका नजरें झुकाकर देखना भी मोहब्बत हैं..!!
#Aankho Hi Aankho Me Baatein Karna Ishq Nhi Hota,
Uska Nazre Jhuka Ka Kar Dekhna Bhi ❤️Mohabbat❤️ Hai..!!
#तुम अगर चाहो तो लिख दो, इश्क़ मेरी तक़दीर में​,
तुमसे खूबसूरत स्याही तो जन्नत में भी नहीं होगी..!!
#Tum Agar Chaho To Likh Do, ❣️Ishq❣️ Meri Taqdeer Mein,
Tumse Khoobsurat Syahi To Jannat Me Bhi Nhi Hogi…!!
Khawaish Shayari
#देखकर तुझे ज़िंदगी जीने की ख्वाहिश है अब,
मरते मरते तो मुझे कई जमानें गुजर गये…!!
#Dekh Kar Tujhe Zindagi Jeene Ki Khawaish Hai Ab,
Marte Marte To Kai Jamane Gujar Gye.. !!
#दूर तुम जाओ तो बेचैनी मुझे होती हैं,
महसूस करके देखो मोहब्बत ऐसी होती है…!!
#Door Tum Jao To Bechaini Mujhe Hoti Hain,
Mehsoos Karke Dekho 💖Mohabbat💖 Aisi Hoti Hain…!!
Related posts