Two Line Mood Off Shayari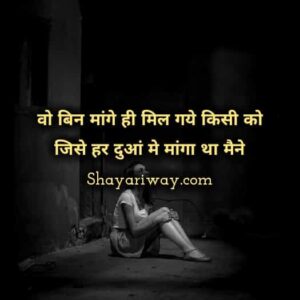 वो बिन मांगे ही मिल गये किसी को
जिसे हर दुआं मे मांगा था मैने
Vo Bin Mange Hi Mil Gye Kisi Ko
Jise Har Dua Me Manga Tha Maine.
मत करना इश्क इससे बहुत झमेले हैं
हंसते साथ है मगर रोते अकेले हैं।
Mat Karna Ishq Isme Bahut Jhamele Hai
Haste Saath Hai Magar Rote Akele Hai.
लौट आती हैं हर बार मेरी दुआं खाली
जाने कितनी ऊचाई पर खुदा रहता है
Laut Aati Hai Har Baar Meri Dua Khali
Jaane Kitni Uchayi Par Khuda Rahta Hai.
थोडा आगे बढते ही संभल सा जाता हैं
मेरा दिल इश्क को अब गुनाह समझता है
Thoda Aage Badhte Hi Sambhal Sa Jata Hai
Mera Dil Ishq Ko Ab Gunah Samajhta Hai.
Two Line Mood Off Shayari
कुछ ना कहें वहीं अच्छा है अब हमारे लिए
वरना शिकायत तो बहुत हैं दिल में तुम्हारे लिए
Kuchh Naa Kahe Vahi Accha Hai Ab Hamare Liye
Varna Shikayat To Bohut Hai Dil Me Tumhare Liye.
वास्ता नहीं हैं मुझसे तो नजर क्यो रखते हो
किस हाल मे हूँ जिन्दा ये खबर क्यों रखते हो
Vasta Nhi Hai Mujhse To Nazar Kyo Rakhte Ho
Kis Haal Me Hu Zinda Ye Khabar Kyo Rakhte Ho.
किसी का रूठ जाना और फिर बेवफा हो जाना
इश्क में यही लम्हे कयामत से लगते हैं
Kisi Ka Ruth Jana Aur Fir Bewafa Ho Jana
Ishq Me Yahi Lamhe Qayamat Se Lagte Hai.
ग़ज़ब की दीवानगी है, तुम्हारी मोहब्बत में
तुम हमारे ना हो पाये फिर भी हम तुम्हारे हो गए
Gazab Ki Deewangi Hai Tumhari Mohobbat Me
Tum Humare Na Ho Paye Phir Bhi Hum Tumhare Ho Gye.
Related Posts: